Style Boards / Process
I put together some style boards of how I wanted to style the Marathon Weekend. These were presented to The LA Marathon Committee and discussed amongst both of our teams.
Special Edition LA Marathon Shoes
Sr. CMF Designer
I materialized and colored the entire LA Marathon Shoe line which included a unisex stability runner and two color ways for the neutral long distance runner.
The unisex "LA Palms" Skechers Performance Shoe has an Avery Dennison Knitted upper with LA branding. The "LA Razor", colored in Yellow and Pink for Men and Women has an open knit designed for breathability and long distance speed racing.
Special Edition LA Marathon Apparel
Apparel Graphic Designer / Illustrator
Working with the Skechers Performance Apparel team, I illustrated and designed the T-shirt graphics for the Marathon. We wanted runners to not only walk away with some great shirt and tank options for race day but to have some gear to rock after the memorable weekend.
LA Marathon Expo Picture Wall
Excited runners entered the LA convention center eager to start the weekend. Greeting runners at the bib pick-up was a huge picture wall, illustrated by AJ Dungo and myself.
LA Marathon Expo Oversized Illustrations
Knowing all the hard work that these LA runners had put in to train for this weekend, we wanted to create a memorable atmosphere. We built three oversized 3-D illustrations for runners to take pictures with. Runners of all ages were happy to take selfies and pictures with the oversized shoes and runners.
Marathon Expo Live Mural
AJ and I designed a double sided mural to paint on Marathon Weekend that illustrated the LA Marathon course, highlighting LA monuments from Dodger Stadium to The Santa Monica Pier.
After the Marathon, the mural was taken apart and was donated to LA Unified School District.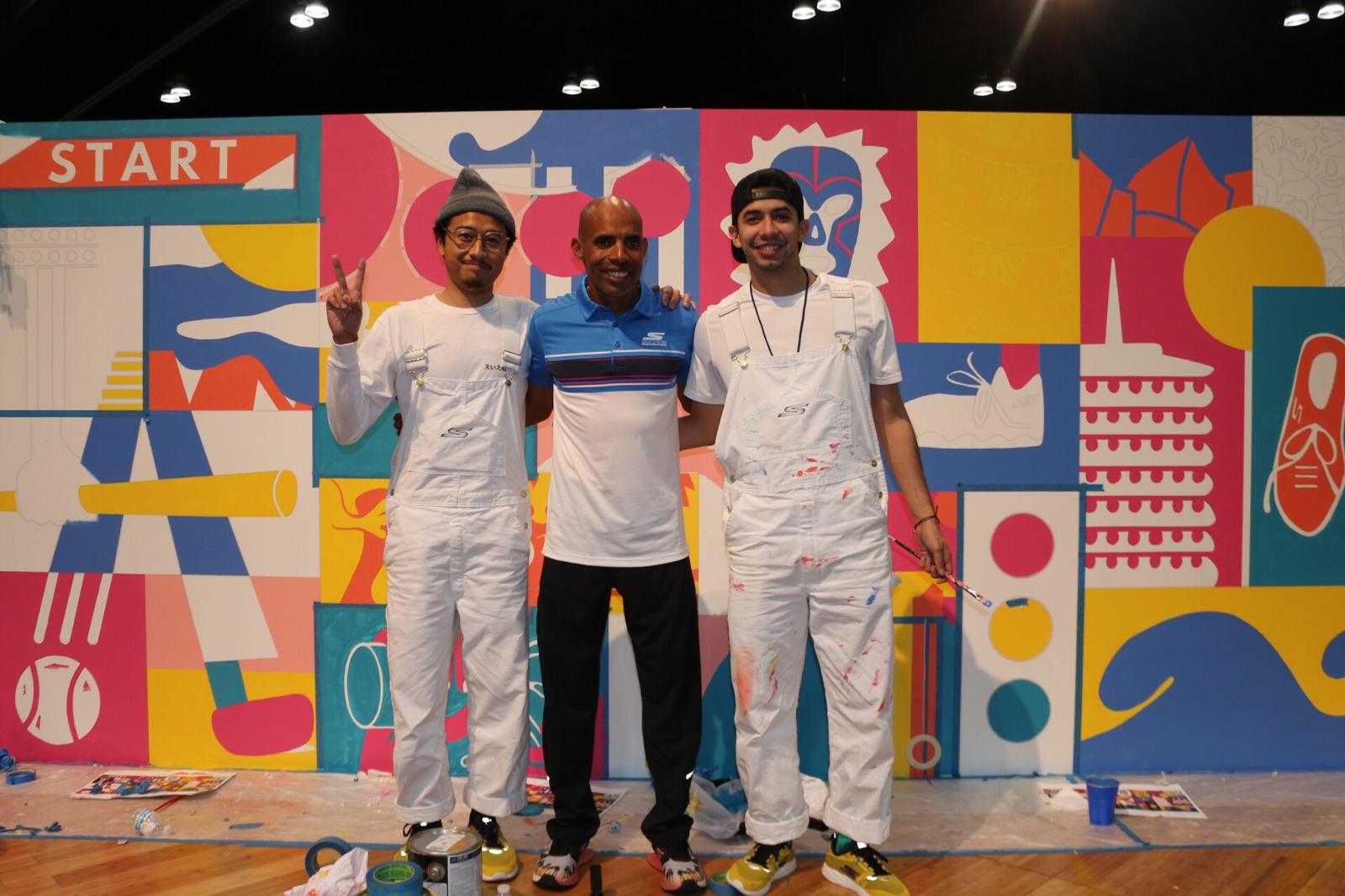 The LA Marathon Expo
The Los Angeles Convention Center
As a LA resident, and former LA Marathon finisher, it was a dream come true to work to this project. Thanks Los Angeles!